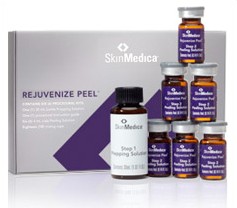 A chemical peel is the ultimate skin treat! Fast becoming a favorite among Hollywood A-Listers, Vitalitity Institute Medical Products' VI Peel effectively bridges the gap between the spa facial and chemical peel, delivering dramatic, immediate results with virtually no down time. It is the perfect lunchtime indulgence. Relax and rejuvenate with their popular VI Peel. This peel is an intensive clinical treatment designed to resurface the skin quickly and safely. This reduces wrinkles and other fine lines while softening the skin and encouraged the renewal of cells. This facial is excellent for all skin types and people of all ages. Also, learn about the Rejuvenize Peel from SkinMedica – a wrinkle fighting peel that will resurface and reset your skin. After these chemical peels Denver, you will noticed a dramatically refined complexion.
Vitality Institute
Vi Peel Chemical Peel
Do you want more youthful looking, radiant skin? You can get this about a week with a peel from the Vitality Medical Institute Medical Products. The VI Peel®  is created from a blend of ingredients that can be used for all skin types. Dramatic results can be seen after this powerful, synergistic peel, and there is very little downtime, no skin preparation, and virtually no pain. This peel instantly brightens, smooths, and softens your complexion, and reduces hyper-pigmentation and melasma. Let's take a closer look at the process of this innovative treatment. Following your VI Chemical Peel, your complexion will glow and feel firm. Overall, your complexion will glow, your fine lines will be reduced, and blocked pores will be deep cleaned. With ingredients such as TCA (which stimulates collagen growth), Retin-A (a wrinkle fighting acid), salicylic acid (an exfoliant), phenol (an antiseptic that helps penetrate the skin), and vitamin C (exfoliation properties), you'll notice the benefits of this powerful treatment right away.
A Virtually Pain-Free Peel: VI Peel
In past years, the approach with chemical peels is that you couldn't get results without pain. Often, they went very deep, which means there was a longer downtime and a more painful process. Thanks to new technology and products, with VI Peel, you have no pain and very little downtime, but you get visible, dramatic results within the week.
Frequently Asked Questions
How long with the results last? Our skin needs constant upkeep and care. The VI Peel is extremely powerful, but taking care of your skin at home, and protecting it appropriately will help the results to last. Also, you will receive the best results when the VI Peel is performed 3-4 times every year.
Is there any down time? There is no down time with this facial and the results are immediate. There may be slight redness and a small amount of peeling, but there will not be discomfort.
What can I expect during treatment? Many of our patients describe a slight stinging feeling that stops almost immediately. Because the treatment is applied topically on your skin, the numbing occurs after the first application.
How bad is the peeling? Peeling as the result of this chemical peel Denver is manageable. It will start around day three after the peel, and usually only lasts till the end of day four. You can hide the peeling easily by applying moisturizer. And, in some cases the peeling is basically invisible to the eye.
SkinMedica's Rejuvenize Peel
Anti-Aging Peel
SkinMedica's Rejuvenize Peel is an advanced formulation of peeling agents, with a built-in anti-irritant and penetration enhancer that provides controlled exfoliation of the uppermost damaged layers of the skin to reveal fresher and healthier skin. This peel provides predictable results with minimal down time. It is appropriate for moderate to severe skin imperfections.
The purpose of this innovative peel from SkinMedica is to smooth fine lines, wrinkles, and roughness to create a smoother, more youthful appearance.
You will notice instant results after one peel, but more compelling, effective benefits after three to six peels, as recommended by your medical aesthetician.
Revitalize Your Skin
With a Chemical Peel Denver
If you're struggling with your skincare regimen and need a pick-me-up, a peel may be just what you need. Both the VI Peel and the Rejuvnize facial from SkinMedica provide resurfacing qualities that will revitalize your skin and help you get the results you are looking for. Contact one of our experienced medical aestheticians to learn about the best option for you and your unique skin. We have over 30 years of experience, so you are in good hands.
Save
Save